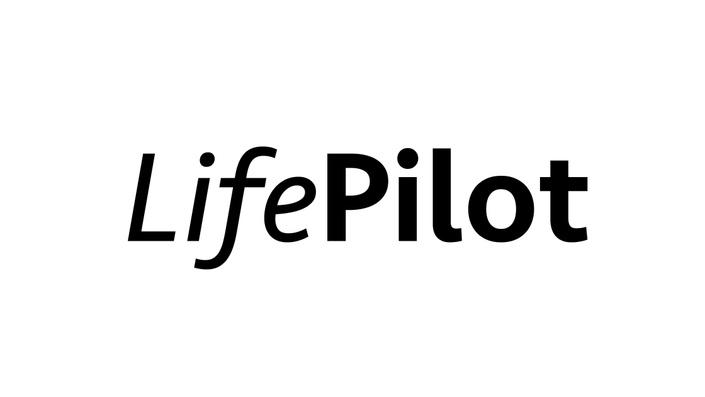 Life Pilot Members Lounge
Support to deepen your Life Pilot practice
Turn The Challenge Into True Momentum
If you want to continue on, keep up the momentum and learn how to become the person who achieves the goals and intentions you desire in life,
then you're in the right place.
Life Pilot is a living system

Over the past 18 months we have been continuously evolving the Life Pilot system and we are very proud of it and the results we've gotten.
We are even more thrilled at the results you've gotten and how it's helped you so far.
But we know there's more work to do. You are just getting the hang of the system, you're asking better questions, you're uncovering habits that aren't serving you, patterns that you're wanting to break, and making progress that feels good.
You've told us you've gained clarity, discovered things about yourself you'd ignored in the past and rebelled against the 'no more than 3 goals' method until you realized it actually works.
So we don't want you to stop there!
---
Introducing the Life Pilot Members' Lounge!
The Life Pilot members lounge is an ongoing membership community for people who want to get more from our Life Pilot system.

Think of it as the support system to deepen your Life Pilot practice.
It's the combination of what you've experienced so far - Accountability, Live Coaching Calls and Learning - but better. More streamlined, more intimate and more progressive.
---
What are the benefits?
Here's what you can expect:

1. Twice Monthly Live Coaching Calls (60 mins)
Twice a month we host a live 'Hot Seat' coaching call, which are powerful and productive and have the following format.
Checkins - a question that prompts people to reflect on their Life Pilot practice
Hot-seat coaching - members who are interested in workshopping a question or challenge volunteer to sit in a 'virtual hot seat'. The group focuses their collective wisdom on that person until they are done.
Show 'n Tell - we then hold space for people to share interesting 'nuggets of gold' they've found useful with the group. This could be something they've created (like a new Life Pilot module), books, blog posts, practices or stories.
Check outs - a chance for everyone to reflect on the session and tune into what they want to take away.
---

2. Exclusive Content
As a Life Pilot Lounge member you will always have access to the latest version and any updates of Life Pilot before anyone else.
PLUS you will get access to new tools that we dish up regularly to add to our existing ones, making you even more productive, effective and successful.
We will introduce new content exclusively for the members community as continue to test and grow our tool and methodology, like:
The Annual Strategy
The Annual Strategy Tool that allows you to dive deeper into understanding your why, setting your annual goals and making sure past behaviours and habits won't stop you from achieving your dreams.
---
3. Members Only Accountability group
The members lounge is exclusive to people who have completed the Life Pilot Challenge. For those who want real time support you will have access to a new Telegram group to connect with your fellow members, share your goals and learnings, and receive support and fellowship.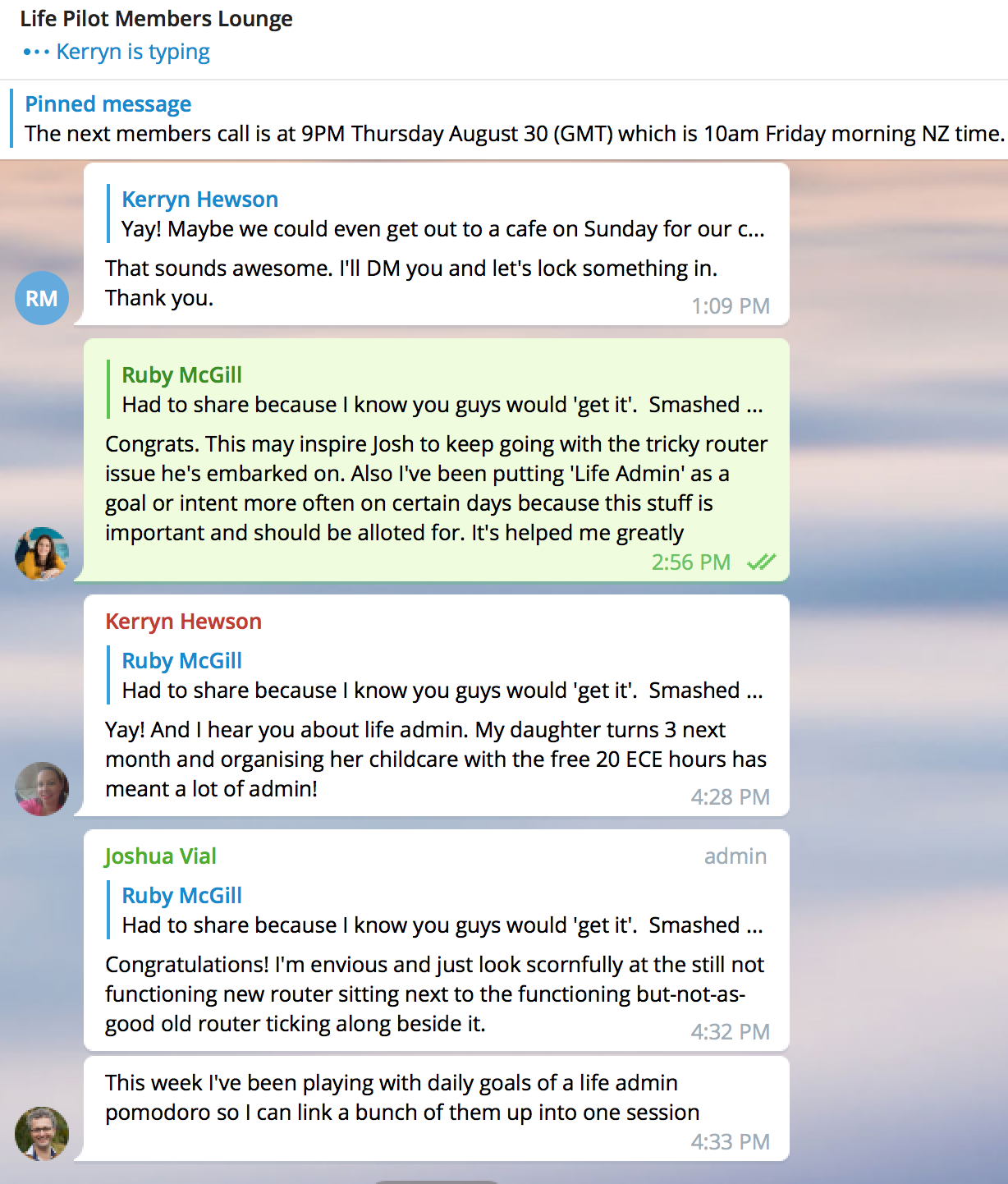 ---
4. Ongoing Accountability
If you want additional accountability simply email your commitment to buddy@lifepilot.co and we will check in on you with encouragement and friendly accountability.
But as you can see from the above, our Telegram Members' lounge is where it all happens - and what gets shared with others makes you more likely to achieve it!
That's why we share our goals, share what we've learned and encourage and support each other on our life planning and optimization journeys.
That said if you have a personal goal or something you wish to only share with us, you will have our complete confidentiality. We get that some things are important and private.
---
5. Flexible Membership
You're welcome to stay in the membership as long as you like and are welcome to rejoin at any time.
Jump in for a month when you want to ship a big project or take a few months off when you're taking a sabbatical.
Just know that you will get results if you commit to ongoing momentum and learning.
Join us!
This is a lively yet intimate group of wonderful members who are willing to challenge themselves, continue to learn and optimize their Life Pilot plans.
Like them, you will benefit from having two of us helping you, plus our members, as well as the ongoing support and accountability, not to mention the new tools we introduce to deepen your practice.
If you know you will get off track without accountability, if you haven't quite integrated the system, if you want to keep improving across all areas of your life, then the Life Pilot Members' Lounge is for you.
Bonus: We have a live coaching call kicking off soon in 2019.
What are you waiting for? Enrol today and we will see you on the inside.
Natalie and Josh xx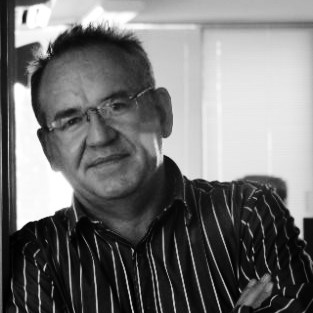 "I have discovered that the Life Pilot Member's Lounge has become a highlight of my week. It's a great place to refine plans, discuss how to deal with the banana skins which get under our feet, and to see the possibilities other member's are enjoying. We pop things up as they occur and have a regular session where we share progress, future plans and tips. Good fun and valuable outcomes."
- Lachlan McNeill, Recruiter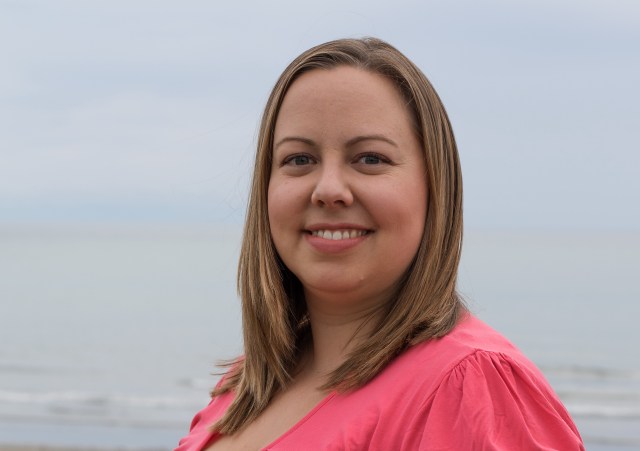 "The Life Pilot Member's Lounge keeps me coming back to the life pilot process again and again. Without it, I would have fallen victim to the busyness of life and my dreams are more important than that."
- Kerryn Hewson, Productivity and Systems Strategist, kerrynhewson.com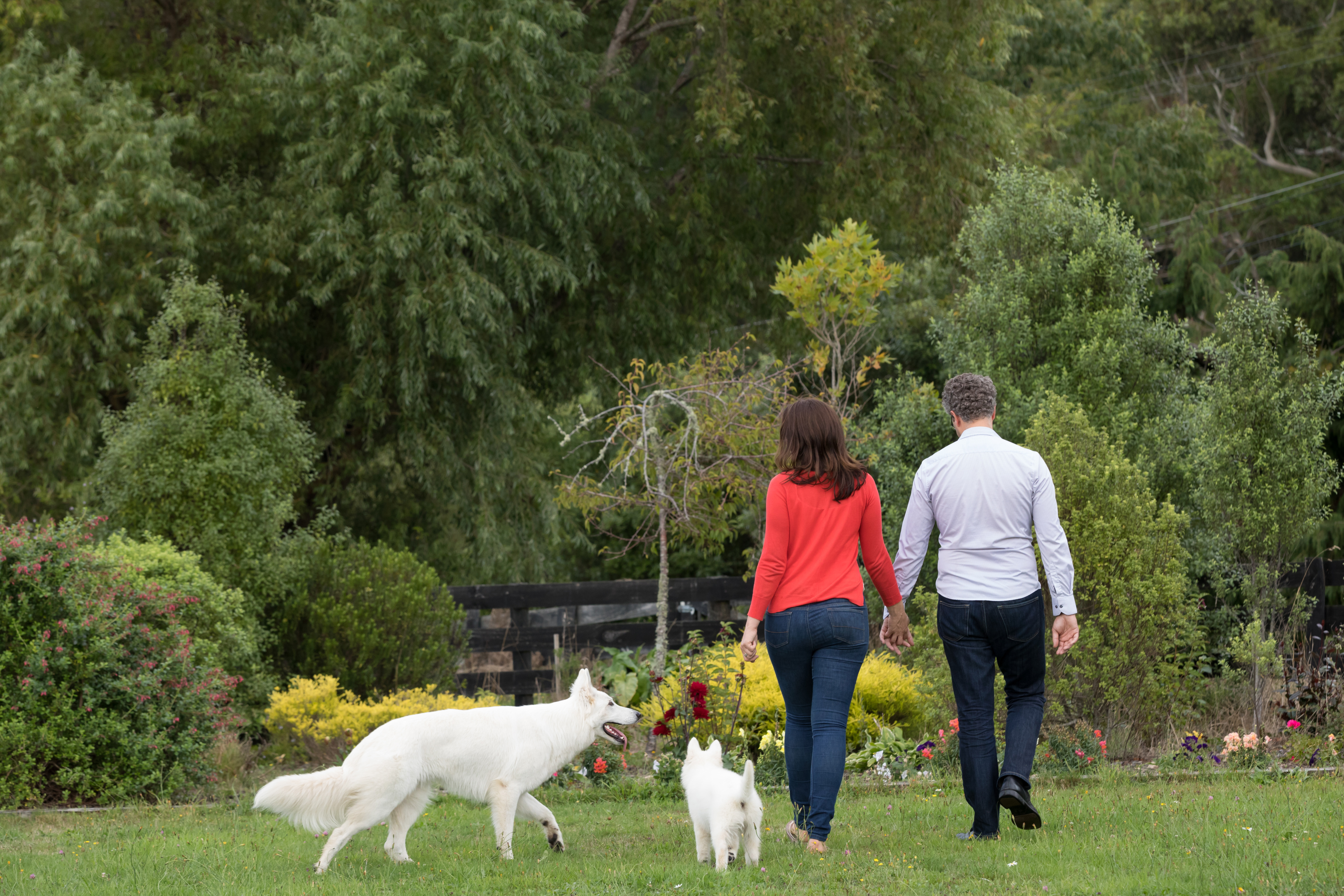 Your Instructor
Who the heck are we?
Hi we are Natalie and Josh, your trusty LifePilot creators, guides and personal cheerleaders. Here's a little more about us.
Natalie is a self-proclaimed Freedomist
Since 2010, Natalie has coached and mentored entrepreneurs to create a business that supports their ideal lifestyle through better systems, technology, team and automation. She has helped thousands of people create smart routines, habits and systems in their lives that allow them to have more time, money and freedom.
She does that over at nataliesisson.com through her blog, podcast, vlog, bestselling book and through online courses and offline experiences like retreats and workshops.
She also loves playing Ultimate Frisbee, getting out in the great outdoors, gardening and spending time with Kayla and Angel, the adorable White German Shepherds.
Joshua is an entrepreneur and technologist
Joshua spends his time imagining and implementing organising systems, especially when he gets to steal patterns from programming. He loves technology, entrepreneurship, leadership, teaching and people.
Joshua founded Enspiral.com and is active across several ventures within this unique community of entrepreneurs doing good.
He yearns for a comprehensive theory of decentralised organising alongside a complementary suite of open source tools.
He's a cofounder of Enspiral Dev Academy and currently working on fun projects related to AI (artificial intelligence), drones and the future of Blockchain. You can learn more about him at joshuavial.com
---
Together our combined skills make for a perfect mix of facilitation, coaching, systemizing, geekiness, fun, wisdom and learning.