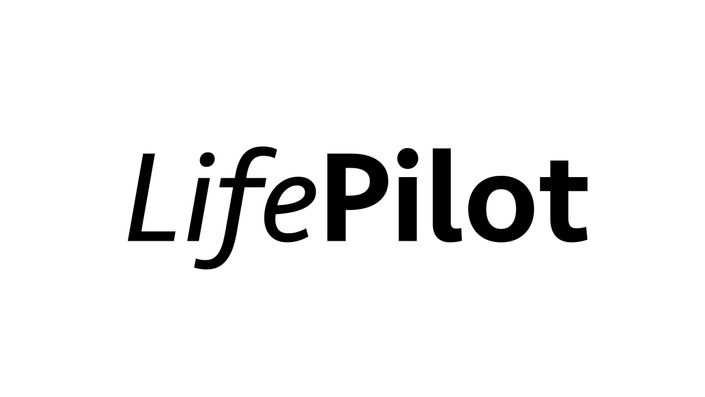 Life Pilot August 30 Day Challenge
Turn your dreams into reality one day at a time.
Enrolment is now closed for this Life Pilot Challenge

But great news, get on the early interest list for the next one by entering your details below.
It is easy to have dreams, but how often
do we actually achieve them?
Each and everyone of us has dreams like having an amazing life, a fulfilling career, a wonderful relationship or of reaching our highest potential.
It feels like every New Year, birthday or significant milestone in our life, we set out with the best intentions to turn our lives around and start living the way we really desire.
Then weeks, even days later, we find that we've failed to take action on the very things we know will make a huge difference to our lives.
We let ourselves down, we quit before we've even begun, we give up before the breakthroughs happen, we discard new habits easily....and we rob ourselves of the amazing potential we have to live with integrity, vitality and joy.
We want to change that.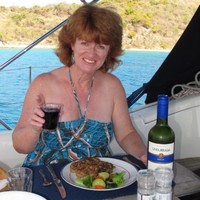 "I highly recommend the Life Pilot 30-day Challenge! Within the first week I started seeing significant results as I improved the clarity I needed to focus on my goals and truly make things happen. It has been great working on the system with my husband and business partner as my accountability partner, because it has helped us to align our goals and projects better. Josh and Natalie's spreadsheet system is really easy to use and the instructions and support they provide make it effortless and fun to follow."
~ Sheryl Shard, CoFounder, Distantshores.ca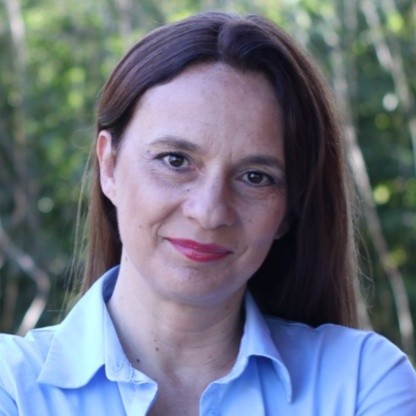 "The tool is really amazing, it's working so well for me because it is simple, it is something I can stick to. The concept of 3 is powerful and for the first time I have a tool for goal setting and accountability that I actually enjoy using . Until now I just used random written notes because I couldn't figure a good digital system.

Natalie and Josh have been extremely supportive and always there for us!"
~ Mary Tomasso, Online Business Consultant, marytomasso.com
12 months ago we realized we were stuck in a rut when it came to our goals and more importantly, focusing on what we really wanted out of life.

While we were both actively creating goals for our business and personal lives, we kept losing sight of exactly WHAT we wanted to accomplish and WHEN as a couple.
Excuses like lack of time and being busy set in too, and that meant we got stuck in a hamster wheel of wanting to change, but not enough to really make it happen.
No matter how much success we had in one area of our lives, we always managed to fall behind in another!
When we got really honest with ourselves, we realized that excelling in our relationship, work, health and personal growth all at the same time, wasn't actually an achievable or realistic goal.

Plus we both had different ways of approaching it and wanted a unified one that made us excited to share our future dreams with each other.
We just knew there had to be a more effective way of reaching our goals and vision!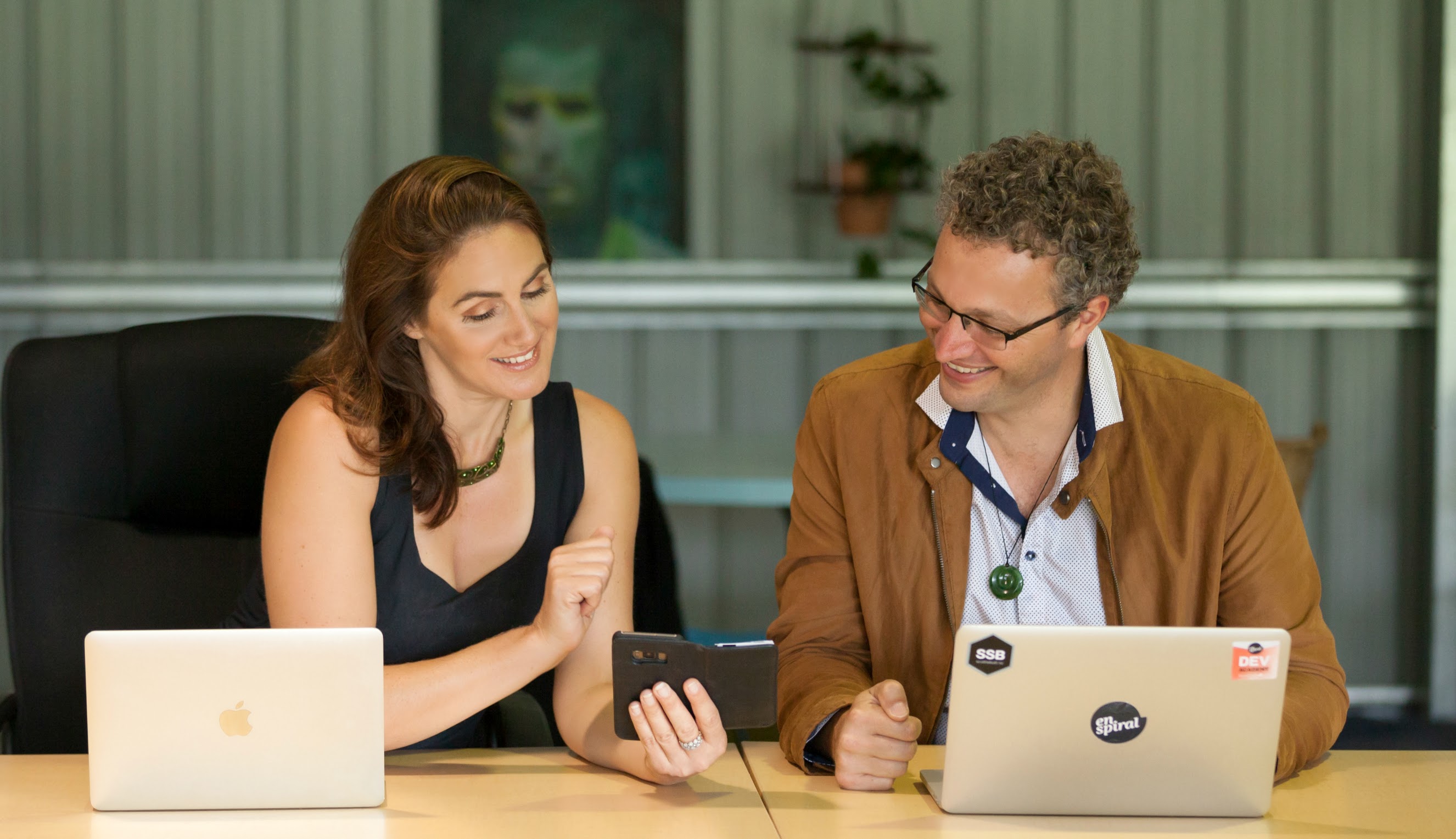 So, after much discussion and reflection, we started a simple system on a spreadsheet. It allowed us to share our life visions with each other and gave us a way of daily turning those visions into reality.
In reality, it was more than just a spreadsheet, it was a system for life we affectionately named Life Pilot, that allowed us to share our visions and dreams with each other and gave us a way of daily turning those visions into daily actions that felt doable.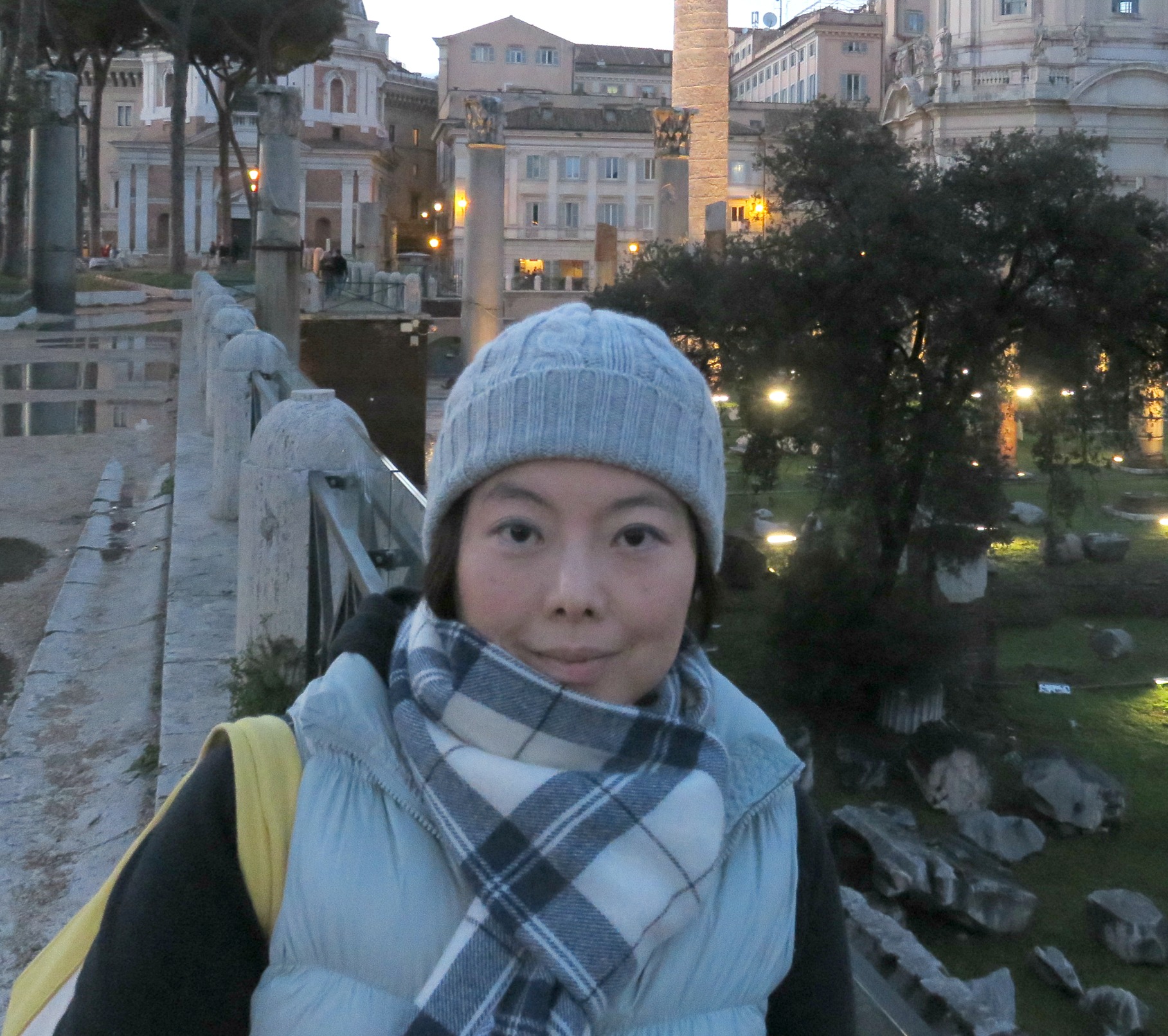 "One of the learnings I got, is that Life Piloting somehow became my new habit. Now I am gradually starting to make time for my Life Pilot tasks. I am generally a very motivated person, but I know that my weakness is not being organized, and I'm very poor at time management. After I started using the Life Pilot system, I got much better. I went to Starbucks and spent 2 hours there, thinking and filling in the Life Strategy template, which was very useful for me. It suited my intuition well and is a well-thought through, kind and friendly guidance for me. I also really enjoyed connection with the other members and have to thank you and them for the drive and courage I got!""
- Kyoko Nakata, Full-time Freedomist and Cosmopolitan Accountant, Japan.
We know what matters to you.
We knew what we had created was working for us, but we wanted to dive deeper and find out what other were struggling with when it came to life planning and goal setting.
In early June 2018, we conducted a survey and had 148 illuminating responses.
We asked you what was the ONE thing you struggled with most on a daily basis.
It came down to these 5 main areas:
Focus and prioritizing what matters
Accountability and follow through
Time management
Energy and motivation
Overwhelm and being under resourced
The insights from your feedback here were not only enlightening, but also directly in line with what we were struggling with when we decided to build the first iteration of our simple life planning tool.
It felt good to know that so much of what you are struggling with is solved through methodology and what we have in store for you in our pilot.
Here are just a sample of answers we received:
"Being consistently focused on the important things".
"Taking time to connect with the bigger, longer term vision we have for our life".
"Staying motivated to accomplish all my tasks/goals."
"Prioritising what work needs to be done, and when. Trying to fit as much work as possible into my child-free times."
We asked you where you wanted to progress most in life.

The top five areas were finances, work/ career and lifestyle, health and personal growth.
We found out these amazing things too:

76.6% of respondents feel busy or overwhelmed daily or weekly.
66% of people prefer to use paper to manage their daily to dos.
A surprising 50% of you still use your memory to do this
80% of respondents don't use a life-planning or tracking system of any kind
The overall sense was that people are craving new tools all the time to help them manage their dreams, goals and daily lives.
We think what we've developed is pretty amazing, yet deceptively simple.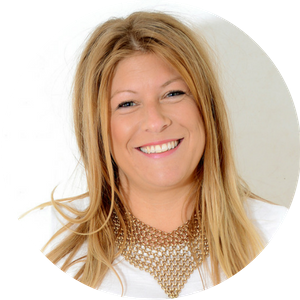 ""You just can't beat external accountability AND goal setting in a group setting. Even though I already have a great planning system, joining Life Pilot really helped me get out of my head and start thinking big again. It's usually me creating this space for my clients so I'm grateful to Nat and Josh for providing a space for me to have the accountability and space to focus on what I want next in life and business"
- Jo Bendle, Productivity Coach, jobendle.com


LifePilot helps you map your goals, navigate your desires and make them a reality.

LifePilot is a system for turning your dreams into reality through a simple methodology that lets you map out your life and goals each quarter, month, week and every day.
For us it started out with a weekly reflection exercise and prioritizing our 3 most important things to do or achieve to feel like we were winning in life.
Then we added in monthly goals to hit and went away on our first 'Seasonal Dreaming' trip to plan out the next three months of our lives. And from here things really started to take off!
Before we knew it we'd added in a total of 7 core categories that made us feel we were not just prioritizing work, but also our relationships, health, wealth, impact, lifestyle and personal growth.
We realized we had created this awesome and simple system that allowed us to appreciate the fine art of balancing life, and seeing where we were focusing our efforts, and when we needed to steer our course to stay on the right track.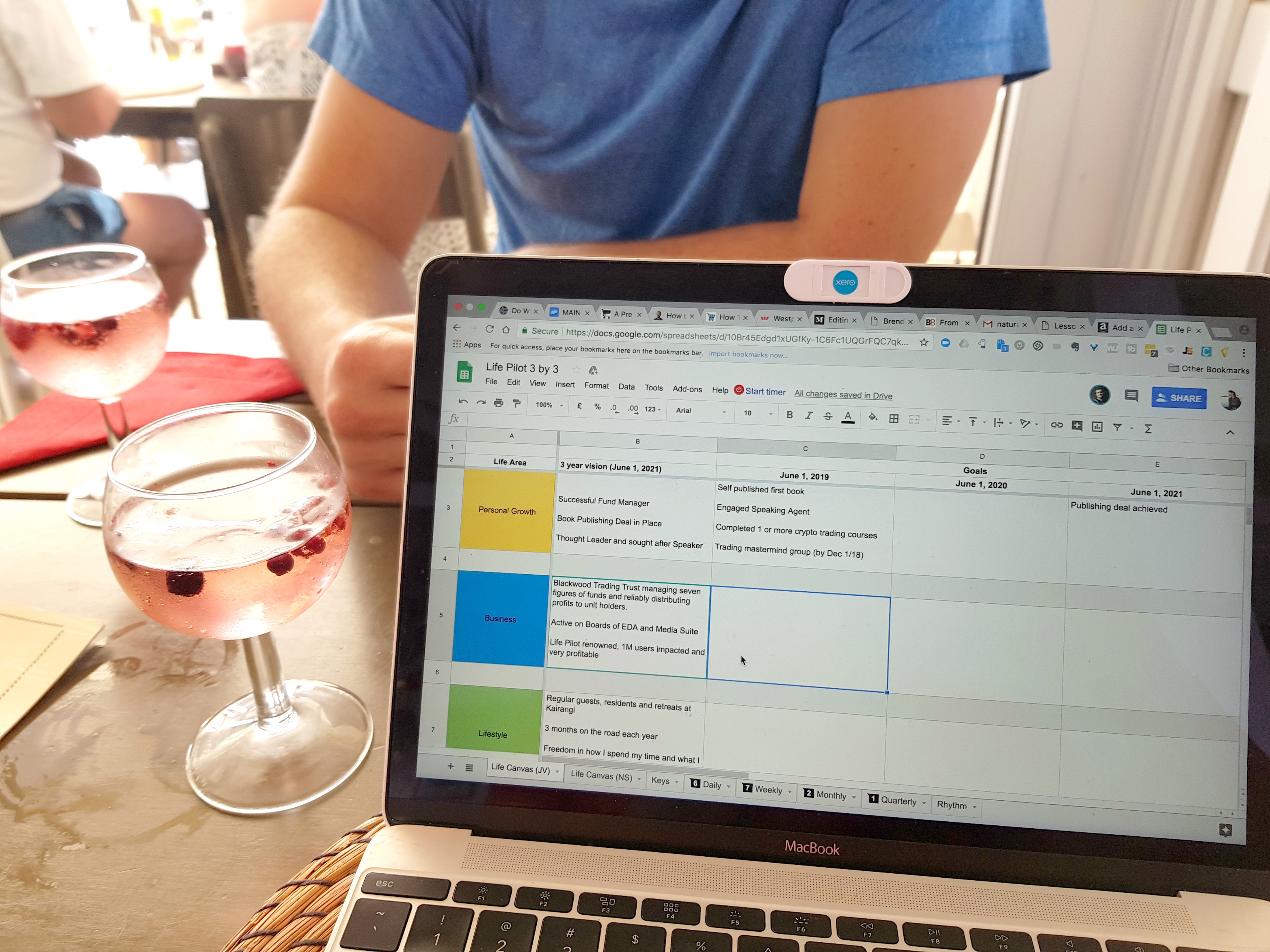 Since then we've designed it, tested it, improved, and tweaked it, making each aspect more enjoyable and more effective.
The thing is this simple methodology, displayed in a pretty colour coded spreadsheet (that I must admit we geek out on) has really transformed our lives - all areas of it.
From setting and achieving meaningful goals through to increasing our daily productivity and focus!
The unique point of difference is that you can share this with another person to hold you accountable and ask you specific questions and prompts to stay true to your life purpose and meaning.
This could be your partner, friend, peer, colleague or even someone you respect and know will commit to help you reach your goals, while you help them do the same in return.
We think it's the best way but we have also had many people do it themselves and get equally great results and outcomes.
It all depends on how much you desire to make change, achieve your goals and achieve your dreams!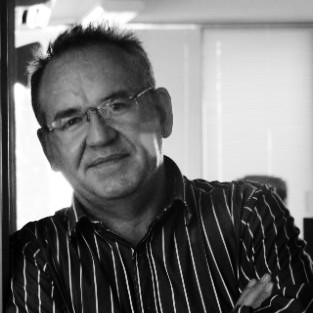 "I wanted to please everyone and have more freedom, something which was never going to happen. Until Life Pilot I had been trying to work out a system by myself but continually having to scrap and re-start or face a whiteboard of disappointment at the end of the month. I found the structure of Life Pilot to be simple but extremely effective in helping me trim out the fat and set up sustainable goals which can evolve over time. Natalie and Josh are people who have walked the walk when it comes to bringing more choice and freedom into their worlds, so they provided practical solutions to many of the challenges we discovered, but I personally feel the beauty of Life Pilot is that you can start today and get great value early on."
- Lachlan McNeill, Recruiter
Now we want to share it with you
During a 30 day challenge starting August 1st we will guide you through using our tool.

What's more we will be there to hold you accountable to create your 3 year vision and set your monthly goals.
We promise you the following:
True accountability
Cheerful coaching and making this process fun
Easy to use - everything is designed to help you stick with it
How to make your daily tasks align with your big picture goals
Being able to see the progress you're making and the results
Being able to see your own trends and patterns that have been holding you back.
---
Here's what our current Life Pilot members
have been saying
Having a small cohort means we can work with you directly and as a group to make sure you get the most out of this and feel fully supported.
Throughout July we have been helping cohort members make real progress like Kerryn Hewson who posted in our Telegram group:
"WIN! We've also made progress on a monthly goal we set for next month that we should hit this month. I think it's because it's become such a strong desire / priority for both of us. I've found this is a trend, just by having more visibility of our goals at all levels and even in advance we begin to take action and see opportunities we didn't before."
Or Stephen Fergusson who stated:
"I find it helpful to move between imagining process goals and outcome goals and I like the ability to swap from big picture (3 years) right down to the daily steps that show the links and the direction of travel. It's also reminding me to step back from feeling overwhelmed by over programming and feeling stuck. I've got a lot out of this so far and looking forward to the next few weeks."
Or Julie Nabala who claimed:
"WOW - first time I've ever finished all of an online session before the next session! EVER - the amount you had in this for a 2 week touch in was just perfect for me. I've gone through all of the lessons, and written things down and now I'll start going through them again. I think this will become a once a day habit - because it's setting my mind up to be much more crystal clear and sharp. Wonderful. Thank you".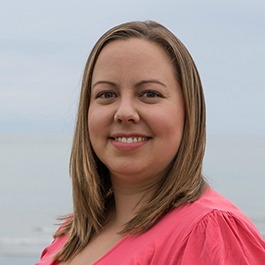 "It's a great simple program with huge impact! What I found most valuable were 1) The accountability and ability to create a shared life vision with my husband. 2) The Life Pilot Tool. Having my weekly goals in the same place as my 3 year vision and every level in between was really motivating. 3) The inspiration of seeing first hand how you both use Life Pilot through your emails, on the live calls, and in our online group."
- Kerryn Hewson, Productivity and Systems Strategist, kerrynhewson.com
Who is Life Pilot for?
If you're a busy professional with too many things on your to-do list as well as a full on life outside of work, this is for you.
If you are a proud parent, with a demanding career and a full family life, this is for you.
If you're a freelancer or entrepreneur juggling too many projects and ideas and stuck in the hamster wheel of always feeling overwhelmed, this is for you.
We promise by the end of 30 days you will:
Feel more in control of your life, less overwhelmed and more focused
Have a 3 year vision in place that excites you
Have your 1 Month goals set to make that vision totally doable
Have started with your weekly checkins to get you in flow to prioritize what's important
Have met a great bunch of people who are cheering you on (including us)
Work with an accountability buddy to ensure your success
Have gotten into a habit of strategically working on your dreams to turn them into reality
In July we ran our first 'pilot' of it and the results have been...well nothing short of outstanding for those who joined us.
They've learned truths about themselves that far exceeded the value of our tool and system.
Like which habits and behaviours were holding them back, why their over achiever syndrome was setting them up for failure and figuring out that their real priorities were in fact, not the 'urgent' tasks.
We want you to experience those life-changing 'ah-ha' moments too!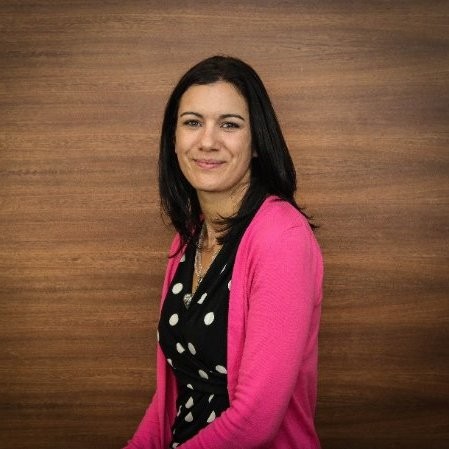 "I joined Life pilot hoping to gain a bit of control and calm over what was shaping up to be a 'busy', exciting but at times overwhelming year. The life pilot system has allowed me to dream big in ALL facets of my life, not just my business. Incorporating regular check-ins to prioritise, reflect, learn and grow helps me remain focused and on track to turn the vision I have for my business, family, health and relationships into reality. A month seemed like the perfect amount of time to begin embedding life pilot and I really valued the three zoom calls and weekly emails. I never felt overwhelmed by the level of content and in fact found that they were perfectly timed, just as I felt my attention slipping they'd arrive and keep me on track."
- Ruby McGill, Instructional designer and Business Director.


What can I expect?
The window we've set to join us for this 30 day challenge is deliberately short. You have until midnight EST on July 31st to secure one of just 5 spots remaining and come on this journey with us.
You will get instant access to our LifePilot School (right here on Teachable).
This will be your home base from which to access our guiding videos and our unique LifePilot spreadsheet tool, which you can then customize and fill in with your own dreams and goals.
You can also expect a very hands on approach during our 30 days together including:
Welcome video introducing Life Pilot and how to use the template and system
Kick off call on August 1st to get you started and set your initial 30 day goals (see FAQ below for times and dates).
A weekly live coaching call taking you through our Life Pilot process and new tools to help you
Weekly checkin and guidance via email
Daily accountability and support via Telegram group
So what are you waiting for?
Let's make August a month to remember and the start of your Life Pilot journey!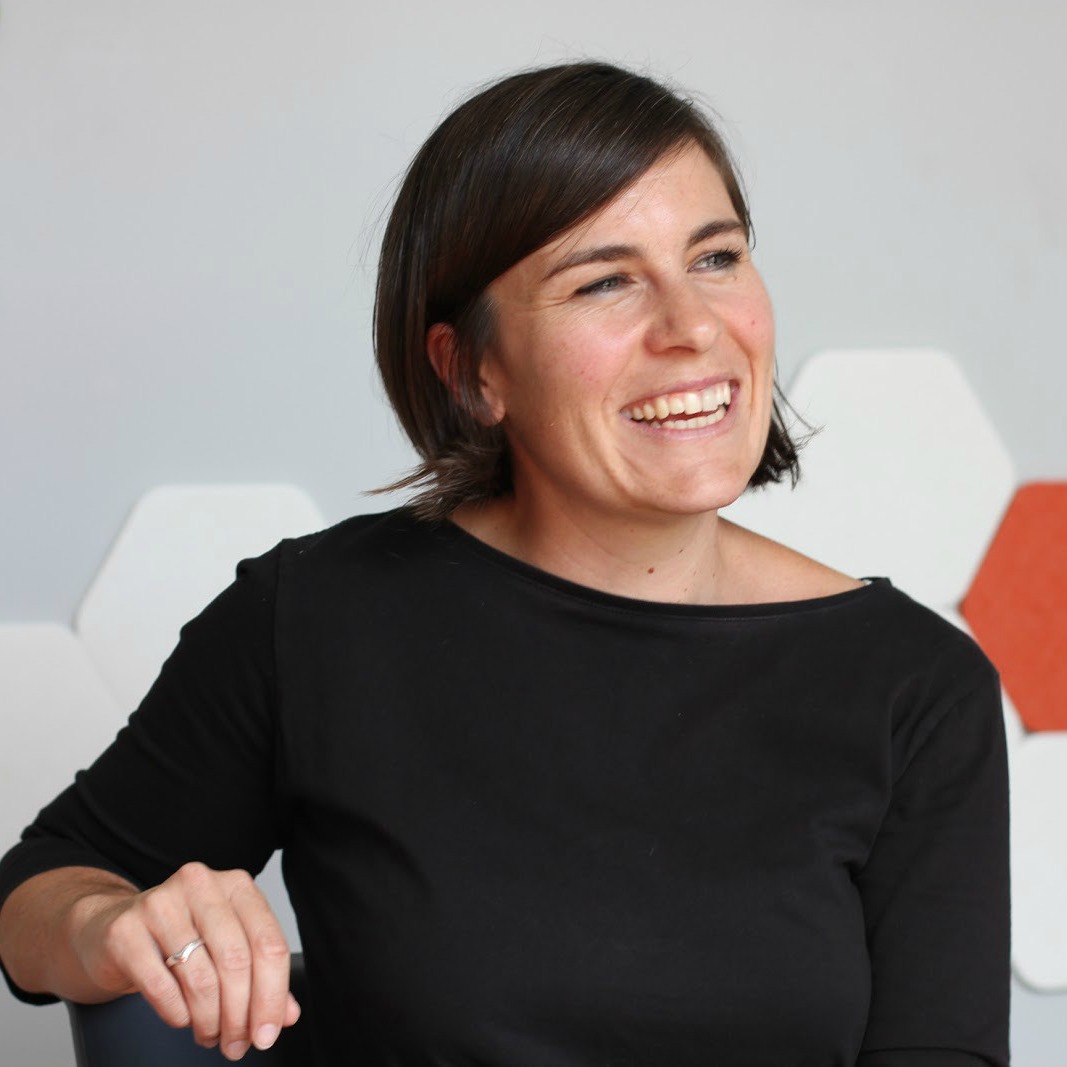 "I am really enjoying the Life Pilot tool and have been using this with my partner to map out our next few years (and next few weeks as he is leaving his job for self-employment!). I am loving the structure and focus it is adding to our lives and relationship – plus I like the balance that it brings across all aspects of our life from health, relationships to business and our future lifestyle goals which involve travel and a sustainable/eco lifestyle property. From my past interactions with Josh, I have always liked his ability to ask the kinds of questions to get me thinking/questioning deeper, and matched with Natalie's drive, business experience and efficiency focus, you're a powerful duo! "
- Julia Cabon, All-rounder and Founder, dogoodjobs.co.nz
Frequently Asked Questions
When does the course start and finish?
The challenge officially starts on August 1st but you will get access the instant you enroll to watch our welcome video and get access to our Life Pilot tool, plus a video on how to use it. The first live call with us is on August 2nd. This challenge runs for 30 days.
How much time will I need to commit?
We suggest around 2-3 hours per week. This includes 30 minutes for your Sunday weekly reflection, calls with us, checkins and working on your 3 year life canvas.
When are the live calls?
We run two of each our live calls to hit almost all the timezones! The kick off call is on August 2nd The midway checkin call is on August 15th The wrap up and celebration call is on August 30th. The call times are at 9am GMT and again at 10pm GMT. For example the August 3rd one is at 9am GMT is 5pm in Tokyo, 6pm in Sydney and 8pm in New Zealand. August 2nd one is 10pm GMT is 5pm EST and 2pm PST. All of these are held on Zoom which you can attend from your laptop with a weblink or mobile.
How long do I have access to the course?
For the full 30 days. We will give you an option to continue on and join for ongoing life planning before that time is up. You will also keep lifetime access to our tool.
What if I am unhappy with the course?
We would never want you to be unhappy! If you are unsatisfied with your purchase, contact us in the first 30 days and we will give you a full refund.
Your Instructor
Who the heck are we?
Hi we are Natalie and Josh, your trusty LifePilot creators, guides and personal cheerleaders. Here's a little more about us.
Natalie is a self-proclaimed Freedomist
Since 2010, Natalie has coached and mentored entrepreneurs to create a business that supports their ideal lifestyle through better systems, technology, team and automation. She has helped thousands of people create smart routines, habits and systems in their lives that allow them to have more time, money and freedom.
She does that over at nataliesisson.com through her blog, podcast, vlog, bestselling book and through online courses and offline experiences like retreats and workshops.
She also loves playing Ultimate Frisbee, getting out in the great outdoors, gardening and spending time with Kayla and Angel, the adorable White German Shepherds.
Joshua is an entrepreneur and technologist
Joshua spends his time imagining and implementing organising systems, especially when he gets to steal patterns from programming. He loves technology, entrepreneurship, leadership, teaching and people.
Joshua founded Enspiral.com and is active across several ventures within this unique community of entrepreneurs doing good.
He yearns for a comprehensive theory of decentralised organising alongside a complementary suite of open source tools.
He's a cofounder of Enspiral Dev Academy and currently working on fun projects related to AI (artificial intelligence), drones and the future of Blockchain. You can learn more about him at joshuavial.com
---
Together our combined skills make for a perfect mix of facilitation, coaching, systemizing, geekiness, fun, wisdom and learning.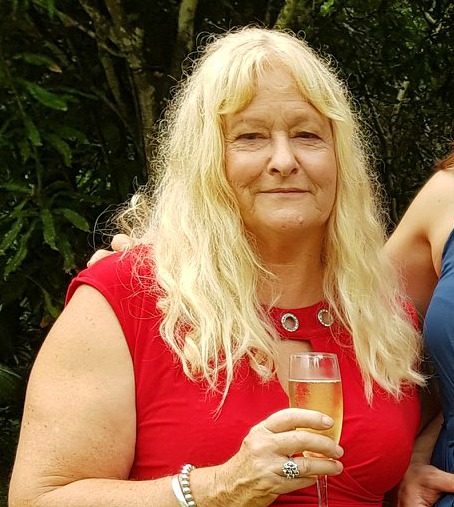 "I am finding Life Pilot a great tool. I thought I had my goal setting down pat this year, but the Life Pilot process has greatly improved the linking of daily and weekly goals to my yearly and 3 yearly goals. It also shows me where my focus is going if I am not reaching my short-term goals, and hence assists in twigging the reality of my vision."
~ Michelle Prior, Founder, dinnerplay.com
Course Curriculum
Start here!
Available in days
days after you enroll
Live Call Recordings
Available in days
days after you enroll
How Life Pilot Works
Available in days
days after you enroll